Cinderella's castle.  It is the most iconic of all the Disney castles.  Whenever you see it, it gives you that magice Disney feel that you only get when you are walking down Main Street USA.  Cinderella's castle is 189 feet high, it was the tallest Disney building until the Tower of Terror came along.  It was finished in July 1971 after 18 months of construction and uses forced perception to make it look taller than it actually is.   
Oddly enough, the castle isn't actually made of a single brick.  Some fiberglass here, some concrete there, some plaster there and Presto! you have a castle that can handle wind speeds up to 110 mph!
Don"t just walk through the inside of the castle.  It's easy to want to speed through there on your way to the next ride but stop and look at the mosiacs on the walls.  It tells the story of Cinderella with over 300,000 pieces of Italian glass in 500 different colors.  The castle is wheelchair/ECV acessible.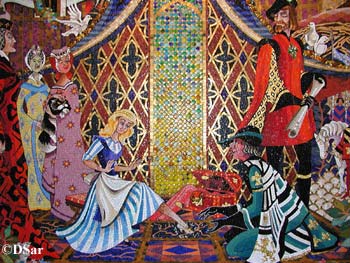 And don't miss Tinkerbell's nightly flight kicking off the nightly firework show!